Temperature Technology
Temperature measurement and monitoring
About us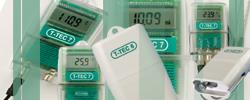 Temperature Technology manufacture and import a selected range of instruments for measuring and monitoring of temperature and related physical quantities, pH, mA, RH. These include thermometers, dataloggers, circular chart recorders and refrigerated vehicle (for trucks and vans) recorders with printing ability. Our selection criteria include price, accuracy, resolution, usability and durability, based on more than 70 years combined experience with temperature measurement and monitoring. More about Temperature Technology.
Latest software update
Latest version of our software is TTEC 15.0 . Fixed the Windows 64 installation problem from version 14.9, which updated the pre-installation of WUSB-03 Gateway driver limited to Windows 7 and below. Windows 8 and above will install directly from the device.
Latest News!
Wireless data logging using radio frequency at 433MHtz, with a range of 350 meters with standard equipment (range can be extended with antennae and repeaters). The T-TEC C, E and F all have wireless counterparts. It's so new, not all of the data is on the website, yet.